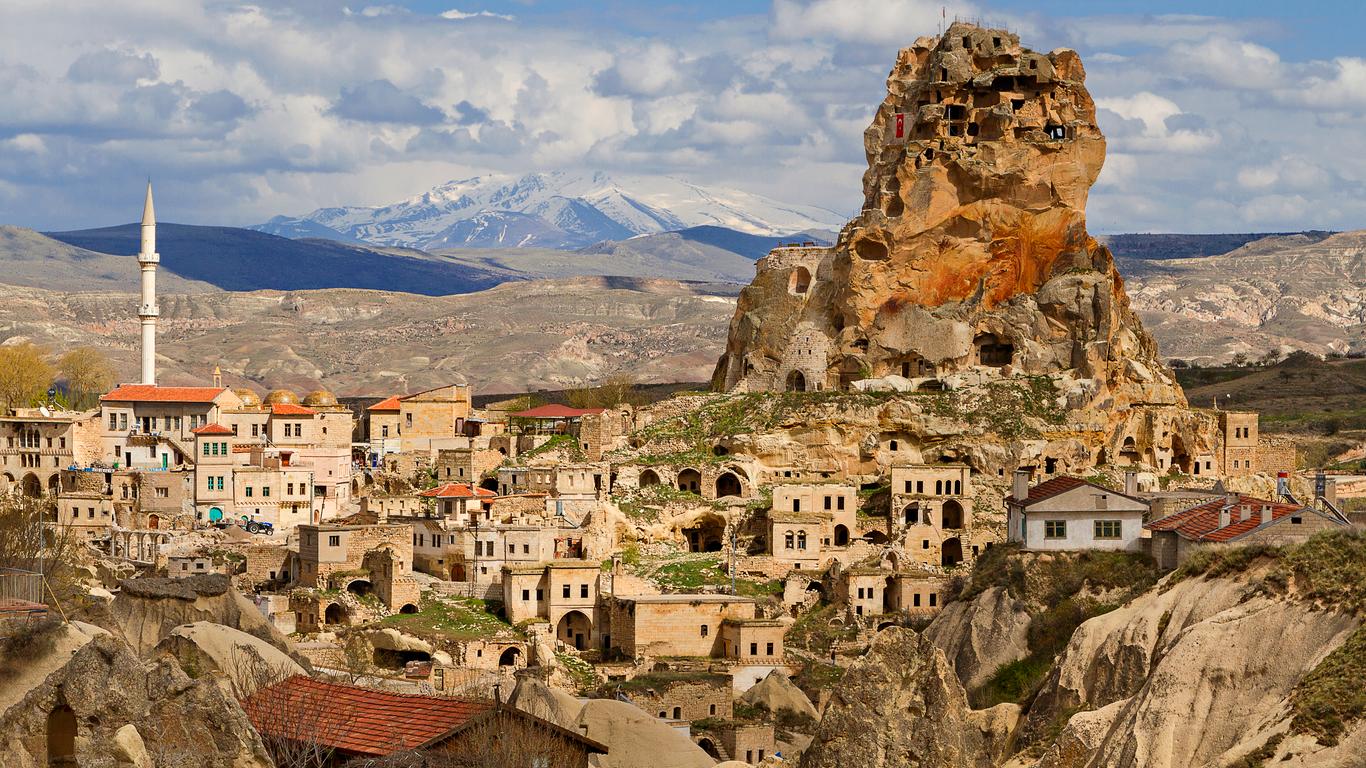 Summary info about Türkiye flight prices, duration and airlines
$737
$1,063
23h 40m
3 airlines
---
Explore insights for your Türkiye flight to craft the best travel plan
What are the most popular cities to visit in Turkey?
Some of the world's most well-travelled cities are in Turkey. The most popular city to travel to in Turkey is Istanbul, which momondo users choose as their landing destination 82% more often than other cities. The next most popular cities in Turkey are Antalya and Izmir.
How long is the flight from Australia to Turkey?
On average, it takes 28h 30m to fly from Australia to Turkey if you fly out of Sydney Kingsford Smith (the most popular airport in Australia) and into Istanbul (the most popular airport in Turkey). If you're flying out of Melbourne and into Istanbul, then the flight time is around 28h 10m.
Which airlines fly to Turkey?
Of the 21 airlines that fly to Turkey, Qatar Airways, Emirates and Etihad Airways happen to be the most favoured based on our user data. Qatar Airways is the most popular among the three airlines, with 37% of users choosing them for their travels to Turkey.
---
Looking to visit Turkey? Check out these cities and spend time seeing some of the most popular sights in the country
---
Click on the cities below to find out when it's cheapest to fly to Turkey from Australia
---
Get up-to-date answers for some of the most frequently asked questions regarding flying to Turkey
What popular landmarks are in Turkey?

While there are more than just a few landmarks in Turkey, most momondo users find Taksim Square, Kizilay Square, Sultan Ahmet Tomb, and Lara Beach to be the most interesting places to see in the country.
What is the cheapest flight to Turkey?

If you are looking to fly to Turkey for less, look to airlines like Turkish Airlines, AnadoluJet, and Pegasus Airlines, with prices starting at $44, $76, and $83 respectively.
What is the most popular airport in Turkey to fly to?

59% of our momondo users travelling to Turkey in the past year chose to fly into Istanbul in the past year, making it the most popular airport in Turkey. The Istanbul airport serves the city of Istanbul.
When did momondo last update prices for flights to Turkey?

Prices for flights to Turkey were last updated today.
How many operators does momondo search for flights to Turkey?

There are 45 operators available for flights to Turkey as of December 2023.
How old do you have to be to fly to Turkey?

Although the minimum age for a child to fly alone is five, airlines that offer an unaccompanied minor (UMNR) service may have their own age limits, which could be impacted by factors such as flight length, timing, and stopovers. It is recommended that you verify with the airline you are booking with for travel to Turkey.
What documentation or ID do you need to fly to Turkey?

The necessary travel and health documents for your Turkey trip may vary depending on your travel plans and individual circumstances. Generally, you should have various documents, such as a national ID card or driver's licence and a passport that is valid for six months beyond your scheduled arrival date. We recommend seeking advice from your airline or a trusted third party, such as IATA.
---
Find flights to these popular cities in Turkey from your nearest airport.
---
Explore alternative premium cabin options for your flight to Turkey
---
These routes have the cheapest flights to Turkey found by momondo users in Australia
| Departing | Destination | Best Time | Best Price |
| --- | --- | --- | --- |
| Melbourne | Istanbul | 26h 05m | $1,049 |
| Sydney | Istanbul | 28h 30m | $1,130 |
| Perth | Istanbul | 20h 00m | $1,256 |
| Brisbane | Istanbul | 28h 10m | $1,277 |
| Adelaide | Istanbul | 24h 35m | $1,516 |
| Sydney | Denizli | 31h 35m | $1,769 |
| Sydney | Ankara | 24h 20m | $1,792 |
| Melbourne | Kayseri | 27h 20m | $1,795 |
| Sydney | Antalya | 26h 35m | $1,828 |
| Sydney | Dalaman | 41h 10m | $1,831 |
| Melbourne | Bodrum | 33h 55m | $1,849 |
| Melbourne | Antalya | 43h 15m | $1,919 |
| Hobart | Istanbul | 50h 45m | $1,935 |
| Melbourne | Ankara | 22h 20m | $2,012 |
| Maroochydore | Istanbul | 27h 40m | $2,146 |
| Melbourne | Izmir | 24h 40m | $2,158 |
---
Learn about all of the flight booking features offered by momondo for free.
How do I get Price Alerts for flights to Turkey?

You can take advantage of momondo's Price Alerts by first searching for your flights to Turkey. Flight offers will be shown to you in real-time. From there you can create a Price Alert by using our on-site widget.

How can I save money on flights to Turkey with momondo?

By using tools like our "Price Calendar", you can see the best days for return flights on your travels. Our "Price Forecast" tool uses AI to predict whether you should purchase or hold off on booking for potentially cheaper prices. Explore shows you all flight options from a city or airport to build your own unique adventure. The Discover blog also provides valuable insights for saving money while booking your experience. After searching you can toggle on "Price Alerts" to track prices for your desired flight and book at the ideal moment.

How does momondo find its flight prices?

We aggregate our prices from over 700+ competitors from airlines to OTAs. We operate in over 30 markets worldwide to show you a wide range of travel options.
---
Why should I use momondo to find a flight deal to Turkey?

To find the flight that best suits your needs, momondo gathers a range of flights from a large pool of different airlines and agents; you can then use our insights and filters to find and book the right flight to Turkey.
Can I find flights to Turkey with flexible booking policies on momondo?

Yes. All flights to Turkey on momondo can be compared and filtered by various policies on offer, including flexible booking.
How can momondo help me find flights to Turkey?

momondo offers useful filters to help you find the right flight. Choose specific flight times, airports or even what payment method you prefer. We have numerous options to help you book your ideal flight to Turkey.
I'm not ready to book a flight to Turkey right now. Can momondo alert me if prices change?

Yes momondo offers price alerts on flights to Turkey. After performing a search on this page you should be able to see the price alert set up feature. Simply provide a valid email address and momondo will instantly alert you when prices change.
---